Brand Extension Examples
How Product Licensing Case Studies Can Help You Succeed
Personal experience is the second best way of learning how to extend your brand. The best way is to learn from other people's experience–it'll save you a lot of money, time and heartache. That's why it's so important to read up on as many brand extension examples as you can—so you don't repeat the mistakes of brands that got soaked and copy the brands that got stoked.
Successful product licensing examples are harder to come by than one would think. There are plenty in business magazines like Entrepreneur, Forbes, and Fortune but they tend to be skimpy.
Problem #1 With Brand Extension Examples
They Don't Give Enough Information
Many citations are simply reference points like this example from Brandingmag.com in which they simply referenced the new 007 James Bond fragrance with this image:

Many brand stretching examples simply contain a couple of paragraphs like this one from Washington State University's Carson School of Business about O, The Oprah Magazine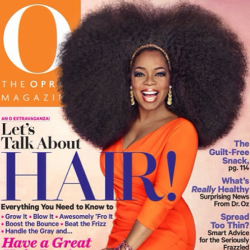 One of the most successful magazine launches of all time, O, The Oprah Magazine made the crossover from T.V. to print look effortless. An extension of the television show, the magazine was also its own unique product, focusing on empowering readers to live their best lives. Oprah's distinctive focus on self-improvement was easily translatable to print. The magazine leveraged the loyalty of Oprah's following, tapped into an audience ready and willing to change their lives, and logically persuaded them to improve their own stories. This is best exemplified by the magazine's first cover ever in 2000, which featured an image of Oprah and the headline, "Live your best life! Start right here, right now!"
The magazine leveraged a uniquely passionate audience, the powerful Oprah brand, and took the logical leap of showcasing self-help and empowerment from the screen to the magazine rack. With more than 12 million readers every month, O, The Oprah Magazine is considered a brand extension success story.
Problem #2 With Product Line Stretching Examples
They're Hard To Find
It's also cumbersome to actually find product line extension examples. It's a little like shopping for a loaf of bread and finding a breadcrumb on Google, a slice in a magazine or a chunk on a blog. It's a lot of work to put them all together to form a substantial resource you can go back to time and again. I know, because it took me extraordinarily long to compile usable brand extension case studies to make some of the points in my book, Expand, Grow, Thrive.
In the process of writing that book I researched 35 product licensing examples, drilled deep down into the available information and then constructed a tightly-formatted resource I could dip into whenever I needed an example to make my point. Now, for the first time, I'm making it available to the public.